Sustainability & Human Impact!
I.  Types of Matter  (these definitions are not on my notes because this was an assignment– that some of you still need to complete!)
     A.  Synthetics
          1.  Food Additives
          2.  Medicines
     B.  Natural Resources
     C.  Biodegradable
II.  Sustainability:  Enough.  For All.  Forever. 
 –African Delegate, Johannesburg.  World Summit, 2002 (Rio +10)  
     A.  3 "legs" of sustainability:  Environment, Society, Economics
B.  How does your Sustainability Project "fit in?  Which Leg(s)?
  Identify examples of Sustainability concerns, problems, & issues

  Your world- YOUR Life experiences
C.    Ducks OverBoard!   
Lessons  About Ocean Pollution and Ocean Currents…..   from Toys!  (Worksheet completed in class, refer to the websites / links Blog Post May 10)
III.  Water Pollution
A.  Point Source Pollution= coming from a single location, such as a factory or sewage treatment plant.
1.Deepwater Horizonoil spill, Gulf of Mexico
3.   Montrose Hazardous Releases, California
B.  Nonpoint Source Pollution = a combination of pollutants from a large area rather than from specific sources. 
     1.   Think: Run-off!
2.  Ex.:
C.  "Garbage Patch?"
natural gathering points

rotating currents, winds, and other ocean features converge

Accumulation of  marine debris, trash… Microplastics—> form a "soup"
      4.  Ocean Garbage Patches with masses labeled
D. Is there a "Garbage Patch" in the  Great Lakes?
    1.  There are accumulations of trash— look at currents…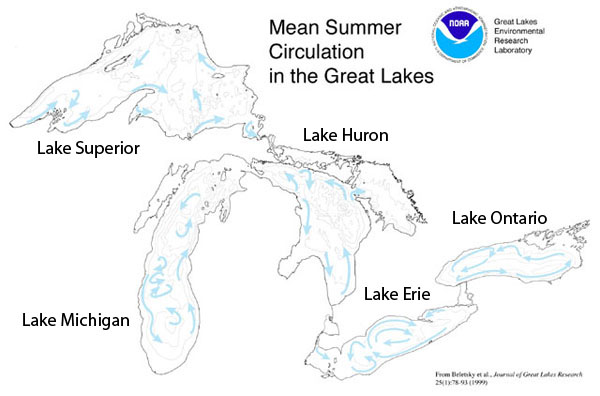 E.  Consequences of Ocean  Pollution
     1.  Ocean Acidification – low pH     Acid Test NRDC (3 min version) 
Full Movie:  NRDC   Acid Test: The Global Challenge of Ocean Acidification
 Microplastics in our oceans —> in our foods  

 Reduction in Ocean Species
F.  How to Create Positive Change:
  Protect the Ocean – Ocean Sanctuaries
2.  Ban Microplastics
3. Fish – Eat Sustainably Caught Fish
4.  Innovation is Key to solving the problem!
G. Human Activities Change Ocean Temperatures
1. The ocean absorbs over 90% of excess heat from the atmosphere
2. The ocean stores most of the energy received  from the Sun
3.   Warmer ocean temperatures —>  many ocean species cannot adapt quickly enough
4.  Sea levels rise, because as the water is warmed, the molecules spread out ("It swells")
5.  Ice Sheets, Glaciers melt, again causing sea levels to rise
H.   Ex.: Sea Level Rise in past 120yrs= ⇧19 cm
 H.  But Sea Level rise in past 20yrs= ⇧ 8.5 cm
IV.  Atmosphere: Human Impact Creates Changes
A.  What are Greenhouse Gases?
 Result from burning Fossil Fuels

B.  Fossil Fuels
   (you do NOT need to memorize these graphs—> you should understand them, and try to explain these):

2.
C.  Resulting Compounds in our Lower Atmosphere
 NOx or NO2

   – N

itrous Oxides – exhaust chemicals
2.  VOCs :  Volatile (-explosive, Flammable)    Organic     Chemicals:
3.  Chemical Reaction:   
VOCs + NO2 —-> O3

D. Ozone: O3
1.  High Atmosphere Ozone: good- protects us from harmful UV rays from the Sun
2.  Low Ozone: "Bad"-traps The  Sun's Heat (Greenhouse Effect)
3. Low Ozone Causes Respiratory Problems
~~~~~~~~~~~~~~~~~~~~~~~~~~~~~~~~~~~~~~~~~~~~~~~~
 Key Notes for the School Year
1. Constraints: 
limits, boundaries…
the factors that might limit or impede the development of a successful design
1.  Types of Experiments!
a.  Control:
This experiment does not have any changes added.

This is the experiment that all others are compared to

 ex.:  think about the Flower Lab example we talked about in class.  The Control experiment was the flower placed only in water (no substances added).
b.  Independent Variable:
 The changed factor that you want to test

 The one change that is different from the control experiment.

 Change only one independent variable at a time.

 Equal amounts of the variable must be added

ex.:  think about the Flower Lab example we talked about in class.  The Independent Variable were the different substances added to the flower's water.
c.  Dependent Variable:
 The measurable

results

 These may change in each trial
2.  Higher Level Thinking Questions:
Great questions to help you to study, asking questions that will help you to show that you understand everything about the microscope!  These question – starters should hep you to make up some study questions that give you a chance to study with more challenging questions, to help you to check if you really can understand, apply, analyze, and evaluate a microscope and how to use it correctly.   Here are 2 charts below to help you / partner form higher level questions:
 
3.  S.T.E.M. = Science, Technology, Engineering & Math
Graphic Organizer Notes, Made with Word Clouds 9/14
Engineering is Elementary: STEM Engineering Design Process
4.  Lab Safety:
A.  Animal Safety
Handle with care
Keep them contained or caged
B.  Electrical Safety
Don't overload outlets
Be careful with cords
(no water near outlets)
C.  "Sharps" Safety
Carry properly (points in palm, scalpels in a tray)
Use correctly – cut away
D.  Heat / Cold Safety
Use hot pads, protective gloves
Do not heat liquids in sealed containers (we discussed "why?" with higher order thinking questions)
E.  Glass Safety
Handle with care
Any chips on glass- tell a teacher
Use  2 hands!
F.  Eye & Face Safety
Wear goggles when using chemicals and fire
G.  Fire Safety
Respect what fire can do
No hairspray or hair near flames
H.  Chemical Safety
Do not ever mix chemicals (unless instructed to do so)
Do not taste, touch or smell chemicals (waft)