Performance Standards/ Disciplinary Core Ideas / Science & Engineering Practices:  Check all of the standards and objectives from this entire unit….. these are listed in each of the posts from the past 7 weeks (instead of me re-posting all of these).  You may also go to my Google.docs weekly lesson plan and look at today's date for all of the standards: Ms. Kelly's Weekly Google.docs Lesson Plan
Today in Class:  
 As promised, I told all classes that I would leave some review questions for you… because your Cell & Microbiology Unit Assessment is Thursday.  
A. 1st set of questions  —- were originally posted Mon., Oct 23:
"Practice Quiz Questions — some examples are listed below (these are not THE Questions for the Quiz,. but good questions to practice with to prepare, and have some higher level thinking questions…)  If you can answer these correctly, you are more likely to perform very well on the quiz."
1.  You learned about Mycorrhizae Fungi, which live in the soil.  Answer the following questions, remembering the the fungi are great at absorbing nutrients from the soil and transferring the nutrients to other plants.  
a.  Why is it important that the roots of the native tree, a Paw Paw tree, have semipermeable membranes?  
b.  Which process must take place in order for the M. Fungae to absorb nutrients?  Draw a diagram of this process, and show that N2 and PO4 are symbols for nutrients, with arrows showing any movement that takes place.
c.  If you are running a test on some corn for a farmer, and you are checking the effect of different amounts of M. Fungi added to the soil near the corn plants, to see if they will produce more ears of corn and grow faster.
—–>What would be a Control Experiment for this set of experiments?
—–>What would be an Independent Variable experiment that you could run?
2.  Why would some scientists say that the nucleus and the cell membrane are the most important cell structures?  Make sure to include functions of each in your answer.
3.  Cells seem like very complex structures!  Think of the cell videos you saw, and all of the organelles in the plant and animal cells—-Wow!  But Tissues are even more complex.  Explain WHY tissues are more complex than cells:
B.  2nd set of questions — were originally posted Wed. Oct. 25……  
1.  Look at the graph below.  What are some things that are missing on the graph and what mistakes do you see?
2.  Next,  look at the graph and the mistake that is identified = a poor scale.  What happens if you do not have a scale that matches your data?  What do your results look like?
3.  Now study these two graphs.  They contain the same data!  But the graphed line looks so different!  Why?
 4.  Find the differences between the two bar graphs.  Which one displays the data correctly?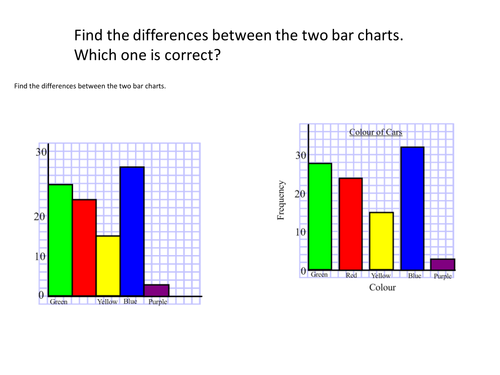 5.  All Cells have 3 things in common…. what are they?
6.  What cell organelles do plant cells contain that animal cells do not contain?
  Why do plant cells need each of these structures (and an animal cell does not need these)?
[If you need a cell organelle review, here is a video
:
3.  Additional Questions – and concepts to review!
Think about the levels of organization of living things.  How would you organize the following – in which level would you place these topics?     

cell organelles                  all the blood vessels (arteries, veins, capillaries)         the plant roots
2.   Why are each of these compounds necessary in a cell ?  What role do they play?sugars – like glucose                proteins                    lipids (fats)
3.  If a cell has some large molecules that are waste products — the cell cannot use these large molecules, what is a method that the cell can use to get rid of those waste products?  
4.  Look at this process below to answer the next group of questions:
a.  What is the name of this process?
b.  What is an important purpose of this process?
c.  How do the carbon dioxide and water enter a plant so this process can occur?
d.  What compound absorbs the Sun's energy? 
e.  Which cell organelle will use the sugars for the plant?   How will that organelle change the sugars?
5.  If someone said that they did not understand if osmosis was passive or active transport, what would you tell them?  Explain your reasoning:
6.  Why did the different human body cells (stomach, salivary glands, striated muscle,…) appear to look so different when you looked at them under the microscope?  They are all human body cells — so why don't they look the same?
7.  If there were no cytoplasm in a cell then what negative result could occur?
8.  What are some common mistake students have made with using the microscopes?
9.  Why is it so important to to use a microscope correctly?  
10.  Name 2 different lab safety guidelines that you should have followed with some of your experiments these past weeks:
11.  When you are trying to solve a problem by designing a solution using the STEM engineering process, you need to make lists in the Plan section…. what lists should you make? 
12.  Why do you need to analyze your data and make some changes when following the STEM Engineering Process?  Isn't your experiment finished when you have run your trials and written down your data?